Movies:
To All The Boys I've Loved Before
It's on available on Netflix.
If you have a twitter, I'm sure you've seen the hype. If you haven't, the hype is REAL. It's basically a teenage rom-com but my irrelevant ass loved every second of it. (I love you Peter Kavinsky) Want a feel good flick? This is a good one.
Comedy Special:
Elder Millenial – Iliza Shlesinger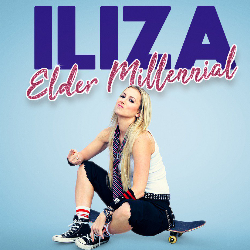 A hilarious stand-up comedy special about being a girl. I've watched it about 5 times now. Great for a squad night in, to share with your mom (mine died), or to force your boyf to watch with you so you can both laugh at how painfully real it is. Enjoy.
Music:
September
by: Earth, Wind & Fire
Throwback!! It's that time of the year!
Sunday Morning (feat. Josie Dunne)
by: Matoma
you should see me in a crown
by: Billie Eillish
work out mix of the century.
Sweet but Psycho
by: Ava Max
Death of a Hero
by: Alex Benjamin
*break out the tissues tho*
Big Mistake
by: Alex Aiono
the 1
by: blackbear
Right Now
by: Nick Jonas & Robin Schulz
Love that this song is about NOT cheating. Love you Nick.
Been There Done That (feat. Tove Styrke) by: NOTD
PODCASTS:
What are podcasts? Well, they're basically just specialized talk radio. The good news is that they aren't just all NPR and boring old people. There's actually really funny/ cool/ spooky/ interesting podcasts for WHATEVER it is you're interested in.
If you've never Podcasted before, start here!
SERIAL – by This American Life
This podcast follows a real life murder trial of a highschool student and her ex-boyfriend who was ultimately put in jail for murder. However, he still claims innocence. This podcast is an easy thrilling listen where they examine all the aspects of this murder trial from over a decade ago, THAT IS STILL GOING ON TODAY. 10/10 recommend. (It's really not that spooky either, and I live in Baltimore where it happened)
Another go to for myself is
Armchair Expert – by Dax Shepard
I love these because he has very different famous guests every week. Even he's famous! (Ever heard of 'Parenthood' or 'Punked!' That's him.) Based on what kind of entertainment you're into, there are different guests for that. But no matter who is on he likes to talk to them not so much about what they're up to now but how they got there. Family life, embarrassing stories, moral ethics, college life, marriage, sex, drugs, nothing is off limits. He also has "experts on expert" where he brings in a variety of experts to discuss different topics of interest.
I suggest starting with the first episode where he interviews his wife Kristen Bell, and then perhaps flop around after that. I also recommend the Ellen episode if you are short on time, or possibly the Ashton Kutcher / Mila Kunis / Jimmy Kimmel one's respectively.